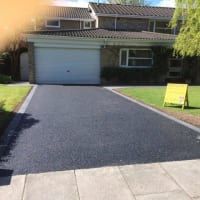 Driveways are often forgotten when designing a house. People usually make normal driveways made from asphalt. Nowadays, contractors are offering lots of new designs and materials for making these driveways. There are a lot of contractors that make driveways and if you also want to make one, be sure to contact them.
The following are some of the most commonly used materials in driveways.
Interlocking Pavers
These are some of the most common materials used to make driveways. In this design, concrete tiles that can be interlocked easily are used. These can be used to create stunning graphics by using different colored tiles. Apart from being pleasing to the eyes, they are very durable and very easy to clean or replace.
Simple concrete driveways
This is the cheapest material to avail for driveways but doesn't compromise on durability. When making concrete driveways, concrete is poured into the area to create a road. This is very durable and will not require any maintenance or strengthening in normal circumstances.
Exposed aggregate driveways
This is currently the hottest trend in driveway materials. They are available in different sizes, shapes, and shades and will surely make your driveways look stunning, to say the least. They are very durable and are easy to replace and maintain. They are made from a special concrete mixture and a layer of aggregate is exposed on the top.
Asphalt driveways
This method uses asphalt as the base material, molten asphalt along with solid asphalt aggregate to make a driveway. If properly done, they can last up to 30 years.